Are We the Right Music School for You?


Since 2006 we have helped hundreds of students begin and continue on their musical journey. We are the largest school of music in Natomas, offering private lessons in all popular instruments, as well as voice. We know you are busy and it can be very hard to find a reliable music teacher. That's why we go above and beyond to find the BEST music teachers in the Sacramento area--so you don't have to!

Our staff consists of experienced music teachers, capable of teaching all ages and levels. We constantly renovate and improve our facilities as well as provide on-going support to our instructors to ensure we are always providing our students and parents with the best possible musical experience.

While you're researching the best school for you, consider the benefits of becoming a Natomas School of Music student and find out why we are Natomas' number one choice for music lessons!

10 Benefits of Becoming a Student at Natomas School of Music

1. Guitar, Piano, Voice, Drums, Bass Guitar, Saxophone, Clarinet, Flute, Violin, Viola, Cello, Double Bass, Trumpet, Trombone, Ukulele, and Banjo in ONE location!
We offer lessons for all of these instruments in one location. Minor student ages start from as young as five to any age of adult.

2. Experienced, qualified teachers
We have 16 music teachers, all with college training and professional performance experience. Our music teachers are dedicated to learning about your (your child's) personal musical goals and to help you (your child) achieve those goals. With multiple teachers for the most popular instruments, we are confident that we have the right teacher to meet your music lesson needs (for your child). In addition to their teaching credentials, our teachers have warm personalities, are extremely friendly, and are dedicated to teaching you (your child) the style of music that you (he/she) want to learn in your (their) music lessons.

3. Wide range of music lesson times and available seven days a week
We are open Monday through Friday from 2:00 p.m. - 8:00 p.m. and Saturday from 8:30 a.m. - 5:00 p.m. and Sunday 1:00 p.m. - 6:00 p.m. ; a total of seven days to accommodate students' busy schedules.

4. A proven track record of excellence since 2006
Visit our testimonial page to see what our students are saying. Every year aspiring music teachers start their own studio, and a year or two later they have closed. Since 2006, we have a proven track record of offering quality music lessons to our students.

In 2011 we received the Best Music Instruction award from the KCRA 3 A-List. We have also received special recognition from the Vice Mayor of the City of Sacramento for our contribution to the betterment of the youth of Natomas, and an award from the Natomas Chamber of Commerce for our service to the community.

5. Two comfortable waiting areas for parents and waiting students
We offer to parents and students waiting for their lessons two waiting areas with comfortable chairs, access to free Wi-Fi, bottled water service, magazines to read, and young kids' toys. Also, every studio room has a window in the door so that parents' can watch during their child's lesson.

6. Professional office staff to serve you

At NSM, we strive to give you the best customer service possible, seven days a week. We continue to add office staff hours to ensure that someone is able to assist you when you call or come into the school. Our friendly, professional office staff are available to assist you seven days a week.

7. Conveniently located on Duckhorn Drive near Arena Blvd., off Interstate 5 in north Natomas, and just north of downtown Sacramento
Due to its central location, our school draws students from Natomas, West Sacramento, Sacramento, North Highlands, Antelope, Folsom, and the Pocket area.

8. Picture Day
Every six months, we host a free Picture Day for students. Students, young and old, are invited to have their picture taken with their instrument by a professional photographer. By offering this service we are celebrating our students' music and sharing that memory with them through pictures. Please see the examples on this page!


9. Student Showcase Performances!
Twice a year we offer all students a chance to perform in front of family, friends and other students, in order to give our students an opportunity to show off what they have learned. These showcases are meant to be fun and non-stressful events for the students and families alike.

10. Month-to-Month Lessons!
Our desire is to inspire our students with the love of music. We do this through the teachers and through music that our students love. Unlike other programs, we do not require semester minimums for lessons. You can begin any time. To discontinue lessons we require notification before the 15th of the month.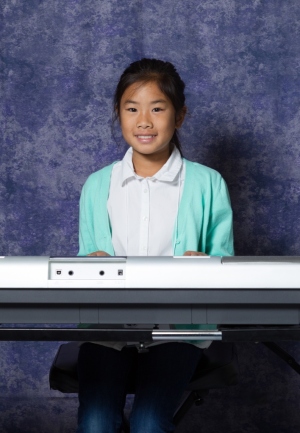 It's easy to take the next step!
Lessons are on a first come, first served basis, so contact us today to arrange your first lesson.
Check out Natomas School of Music on Yelp